Why should you buy a residential property in Kalyan?
Nov 27, 2019
Shweta Yadav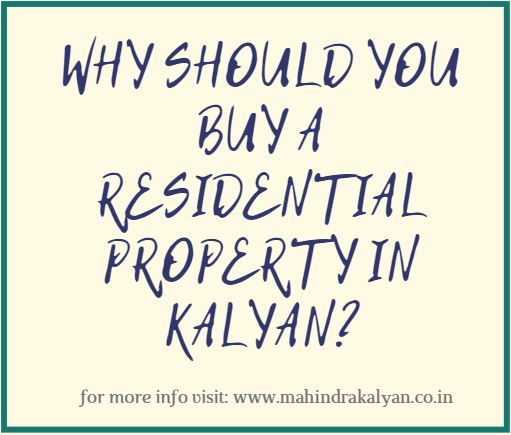 Over the last decade, several localities and suburban areas around Mumbai have emerged as prominent residential hubs. A consistent development in infrastructure has led to this development in the real estate front. Property owners are presently interested in buying new residential projects around these areas, considering the high returns they can enjoy in future. Kalyan is one of these areas, where one can find classy residential properties at affordable cost.
Located close to Mumbai,
Kalyan
has emerged as one of the best places to buy a residential home in recent years. It is the seventh-largest city in terms of size in Maharashtra. The city has a good infrastructure, which makes it a popular choice among people, who prefer residing away from the bustle of the city.
A large number of real estate companies have come up with sophisticated projects over the last few years in Kalyan. Besides, the seamless connectivity to the neighbouring localities makes it livable. Some of the other localities around the area include Chikanghar, Baug Lane, Karnik Road, Durgadi Kila, Wadi, Kala Talao and Shankar Rao. Property prices in Kalyan have been consistently increasing over the last few years, due to the high demand for residential abodes. The developers have focused on the aspirations of millennials, while building these projects. Evidently, they have integrated sophisticated lifestyle and healthcare features in these projects.
Buying a
property in Kalyan
would be a good decision at this point of time. The rental returns from residential properties in Kalyan are high indeed. Evidently, the property owners can enjoy a recurring stream of income, if they lease or rent out these properties later on. Considering the investment potential in these properties, it is logical to buy a home here.
Strategically located around Mumbai, Kalyan has several prominent roads, that connect it to other parts of the city. The Nashik Road lies 7.9 Kms. away from Kalyan West, and the Kalyan-Ahmednagar Highway connects this area to the road.
The Eastern Highway, NH-3 and NH-4 are located in a close proximity to the area. The families residing in residential complexes around this zone can easily get across to the prominent areas around. The Chhatrapati Shivaji International Airport and Kalyan Railway Station can be reached easily from the new residential projects in Kalyan. The social infrastructure in Kalyan looks appealing. Several prominent educational and healthcare centres are located around Kalyan, and the residents can get a seamless reach to these places.